I managed to get everything photographed and ready early, so you get two days to drool instead of just one! I love these yarns so much, it's really hard to let go.
All our initial offerings (below) are fingering weight sock yarns. The goal length for the skeins was 440yds, your mileage may vary as this was done by humans on a niddy noddy.
This is the softcore set, you'll have to wait for the full frontals when the store opens on Friday. :D
On to the yarn p0rn.
Sea and Sky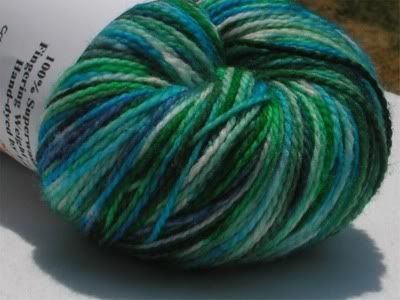 I wound this one into a tiny skein, trying to break up the colors and give you an idea of how it might look knit up. As I used a wooden cutting board, this was quickly abandoned as a BAD idea. :P The yarn is perfectly fine, just a little smaller in skein than the others.
Sunburst - SOLD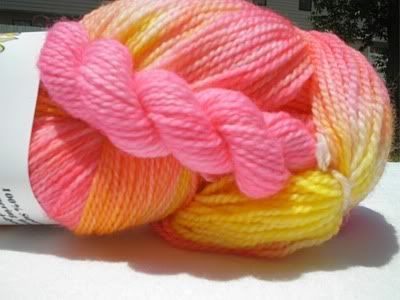 This yarn comes with a mini-skein of bright pink. Use it for toes or heels. This is a free gift to you, using up my leftovers after the big skeins were wound up.
Shades of Kermit
One of my personal faves, I want this one to pet and look at all day. This is a bit brighter, more vivid in person. The sun was not my friend today.
Sea Monkey - SOLD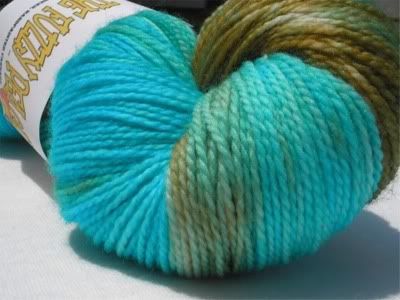 Bright blue with a splash of brown. I've seen these colors combined all over the Internet, and decided to capture it here, in this sock yarn.
Passion - SOLD
This is a unique yarn that has deep, rich colors. From bright red to a purpled black, this one captures all those "loving feelings."
Sea Turtle - SOLD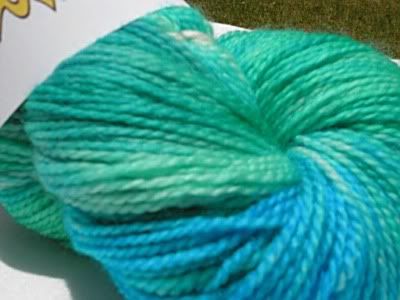 "Aye, sea turtles." 'Nuf said.
Orangello
This one is named for a guy who went to my high school. His brother was Lemonjello (okay, so this maaay be an urban legend, who knows?). This one also comes with the free heel or toe accent color.
1969 - SOLD
Think, or remember, tie-dye T-shirts. Comes with a free mini heel/toe skein. Groovy, baby.
Lisa Frank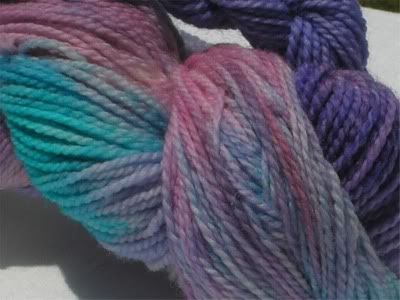 This skein is difficult to photograph well. It reminded me of those stickers I was obsessed with when I was twelve. I LOVED this woman's stickers, and these colors play heavily in those creations. I probably put the CEO's kids through school, off of my allowance. :)
Berry Sophisticated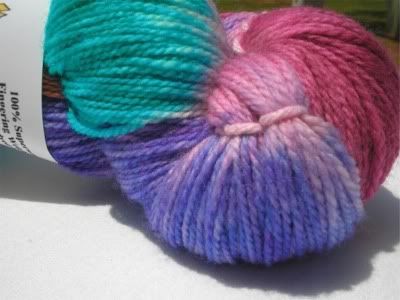 For those of us with exceptional taste and high style. :D This skein is my favorite of the lot. This skein has extra yardage (113 g), human error to your favor!
Remember to stop by the shop on Friday to buy your favorite skeins! Also, get your two free stitch markers with each skein of yarn, this is exclusive to the shop opening. Thanks for looking, tell your friends, blog us, podcast us, sky write us, graffiti us, advertise us, and most importantly, BUY: you know everyone NEEDS more sock yarn.
And, Sock Yarn DOESN'T count as stash!