This is going to be a big ole' post about NOT knitting. I've not done anything exciting as of late, so this is not going to be about any FOs, etc. Like I'm a knitting blogger! Pashaw!
I've been meaning to post this stuff, since Easter and my birthday, but yeah. teh Lazy.
So here are the birthday cupcakes I made fo' mysef. They are just plain yellow (dyed a pinky purple on the inside, yay Wilton's!) with caramel icing.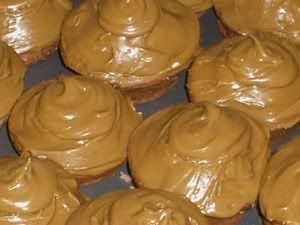 They were yummy but didn't last long. That kinda sucked. :(
And here's what the boy got me this year. I still have to go and get the ring sized though. I keep forgetting.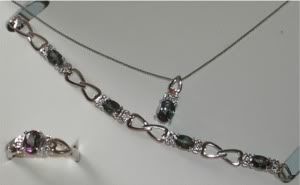 He's a sneak, he bought it while we were at my mom's for Easter, right under my nose! We split up in the mall and he managed to get it, hide it in the car, and keep it hidden until my birthday! What a sneaker!
And I got me some yarn for my birthday.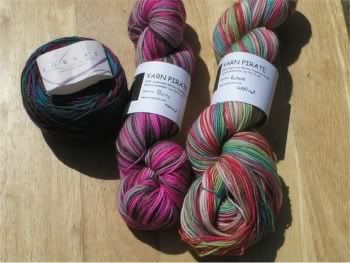 That's lorna's laces on the left, Mountain creek, currently being knit up into Pomatomus socks. Then yarn pirate in Paris (destash blog) and Rosie (the loopy ewe). I love me some YP now. :D I can't wait to knit them up. I also got some FrancisPatrickSales sock yarn from Ebay in Mountain Bluebells *no pics* and some Sweet Georgia in Slayer. :D Those were all over the last month, not all just for my birthday. :D
And the Easter egg pic! I had a madd photo shoot with our eggs, but decided since it was almost a month ago, I'd just post my fave.
And on the way to Valdosta to see my mom for Easter, we found out what John Arbuckle (Garfield's owner) does for a living, his real job.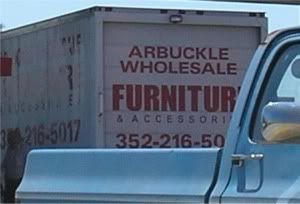 He sells furniture! :P
As you can see, I'm avoiding discussing what's on my needles. I'm not too happy with anything (shawl) and my socks are still tiny (nothin' to show). I have an FO, but it's dark and I've got no pics to show there either. :D