Mrs. B suggested that I knit up a sock to show how looovely my colors are, and I was waay ahead of her. I turned these babies out last week (ignore the one with the ugly color changes at the top, I ran out of my yarn and had to sub this really multi-color, tried to cut the ugly out, but I got tired) and they are so just the thing for my bear, Julian. He rocks these socks folks!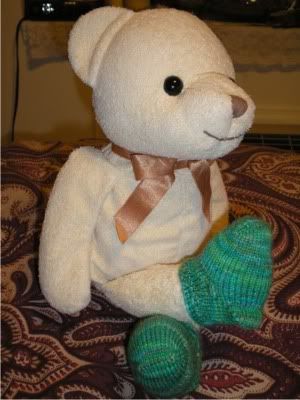 Work it! :P
And here is a zoom version.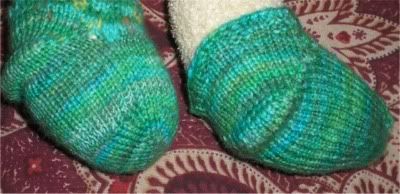 I cut most of the ugly out of this picture so you can't see the orange, brown, and purple that I bound off with! :D Like I said, I got very tired, these are some small socks. I had only a 9g skein (like my heel or toe skeins) and managed to get one full baby sock and one baby sock up to the end of the heel. I had to pick up the new yarn after I had all my heel stitches done. I would assume that a tiny skein would work a full set of grown up toes or heels.
And I have to tell you, even though I have a stake in these yarns, I loved working with it. It was soft and sqoooshy. And it knit up into a nice fabric on size 1s (US) and I had a ball making such tiny little socks.
As you can see, the colors just blend and flow together in such a beautiful way. :D I think that this would be the way that Passion and Shades of Kermit would knit up, esp. Shades of Kermit because the colors are all in the same family. Passion is going to have some red punches in the darker background. It's the one I most want to keep for myself and knit into some cool socks. :D