I mentioned in the last post that I was recently in a car wash. And I love them. !!! LOVE.
We stopped for gas on our way out of Albany coming home and I decided that a car wash would be just the thing. Our friend Chels was with us so we were three in the car and we got the expensive wash, with the tri-color bubbles and the whole works.
So we went through the wash and I couldn't drive into it so Chels took the wheel. We went through and noticed that it didn't seem like it was the deluxe wash like I'd paid for. We didn't think that the suds looked very colorful.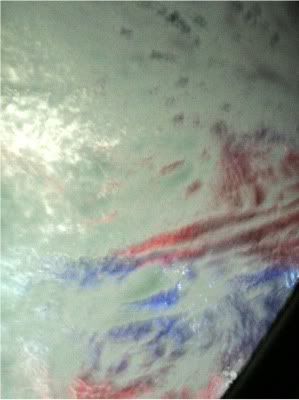 But we saw this:
It was much fun to watch it go over the car. And we had a casualty. My little sunshine do-bob that lived on my radio antenna was lost.
When we went to drive out we realized that the dryers didn't come on and I knew then that something was afoot. We drove around to the front of the store and I went in to complain and the lady gave us a free wash. I thanked her and got back in the car to explain the problem.
The stupid pay at the pump thing gives you a base wash code, not a deluxe. There was a car in the wash when we went back through so we had to wait.
So back through we went. But before we went in again, Chels slithered out of the driver's door (parked too close so to enter the code) and rescued my little sunshine from deep inside the dripping car wash. Very Private Ryan and very dangerous. :P
And this time we had colored, scented suds.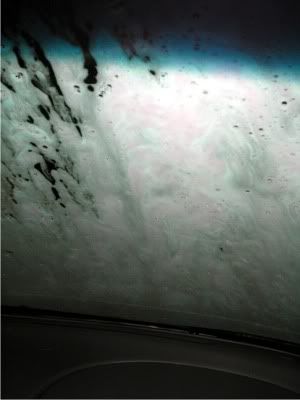 You can't smell it from the picture, but it was very pineappley. :D
Then I had a very sparkly car.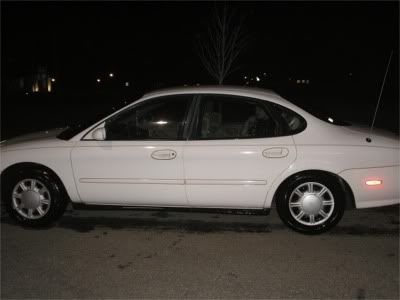 Which didn't even last as long as the ride home because of all the blasted pollen. I hates pollen.
Now for the more portion of this post.
Some flowers my love gave me just 'cause. :D We found them on a trip to Albany.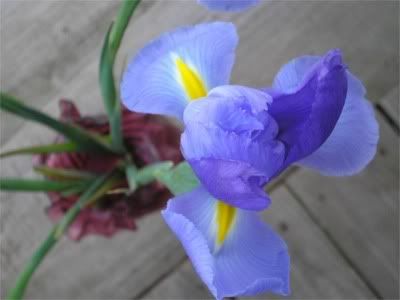 A very ugly hat we almost bought from Ross, a discount clothing store.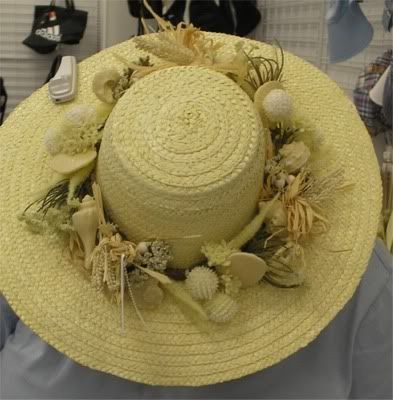 And the newest socks to be finished. A pair of leftover socks with the Mema yarn from the feather and fan socks below. I used some lorna's laces to fill in the foot so that I could use only the nice yarn on the leg. I still have leftovers. Wouldn't have had enough for the whole sock, but still could have used less of the other yarn on the foot. This is what being paranoid gets you. First pair finished in April.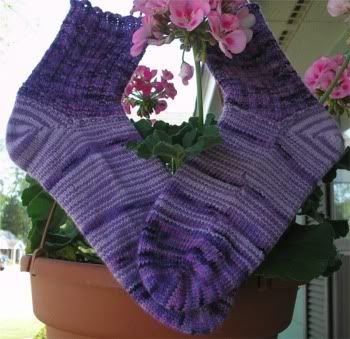 I'm now working on a pair of socks out of the plain lorna's laces with a bubble wrap pattern, very cute. No pics now because it's very boring as it's no more than a few foot inches.
Finally some new yarns. I was without the boy this past week and was very sad. I needed love so I bought yarn, yarn always = love. :P I managed to snag the red, blue, white yarn pirate (rosie maybe) from the Loopy Ewe during their last update. The other yp (paris) I got from Destash and the Lorna's Laces (Mountain Creek) came as an early birthday present from my cousin. He loves me and knows to just stand back and let me put things in his eBay account and then pick from that. :D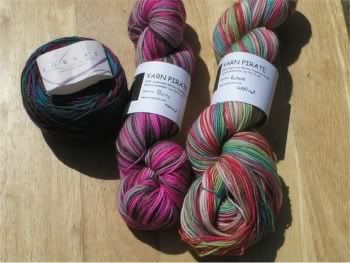 That's all for now. I may post later about a sighting I had this past week.