I've been meaning to post a number of photos for a very long time, and I'm lazy, what can I say?
So here we go folks, hold on to your butts...
My Falling Leaves socks that are so much by the pattern.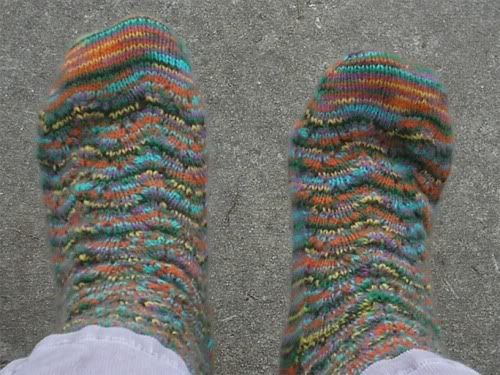 And an action shot
Finally, the heel. This looks all weird, and I'm not sure how I managed to screw it up so badly, there are holes in the heels and it looks sloppy.
Any Ideas?
A blanket, the first project I ever started. I meant for it to be a blue scarf, seed stitch, but it was too wide. So I bought a few more skeins of yarn and made it a blanket. They aren't all the same length, but it works as a blanket for me.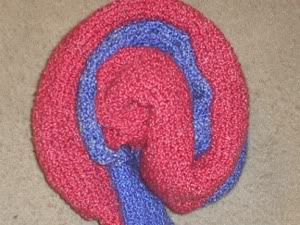 With the thing rolled up, you can't see how bad it looks flat! :D
One Fetching, but I screwed it up too. I read the pattern wrong and missed the part where there was a cable round...who knew?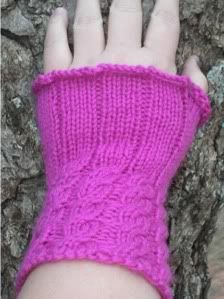 My ballband bag, pre felting.
I loved knitting this, no brainer and it's a purse, not a washrag. :D Totally easy. Not sure about handles yet though.
And it made a nice Smee hat before I felted it, felt like Hook should have been yelling at me or I should be dodging a ticking croc.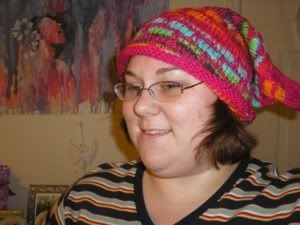 And we have been a tad bored as of late, soooo Scrabble online (don't download from yahoo cause it only lets you play 1.5 times)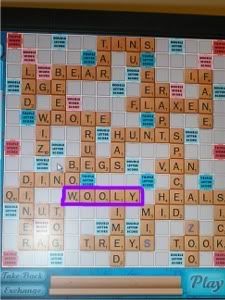 I helped the boy spell Wooly. :D