I'm new here and new to bloggin in general. I have been journaling for a while now, but all of that is not the focus of this post. I have been log cabining now for about a month-ish and I'm using varigated yarns. This happened mainly because I'm about as impatient as a lab puppy and
HAD TO START
as
SOON
as I found these ladies and this pattern. Since my Walmart is crappy and only had pretty colors in varigated, thus began the varigated log cabin blanket. I'm not so happy with it as I could be, but Oh well. Too late now huh? I hope that it will turn out alright. I'm burning through yards and yards of Peaches and Sugar 'n Cream. I'm going to try puttin a pic in here, so here goes nothin'.
This is where I started.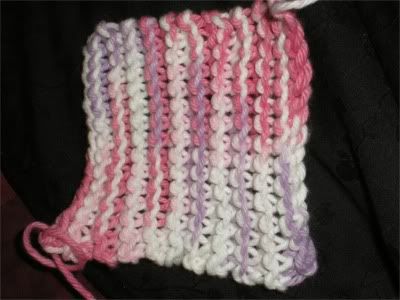 And then I picked up some stitches and off I went.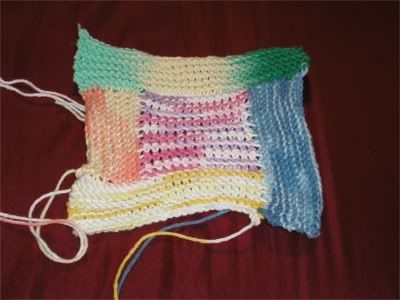 And going.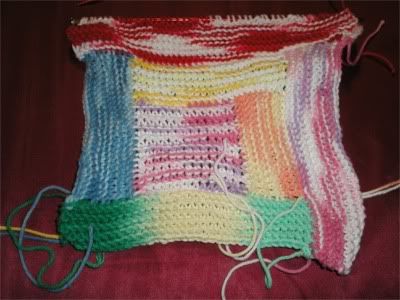 And on the 26th of June, this is where I stood.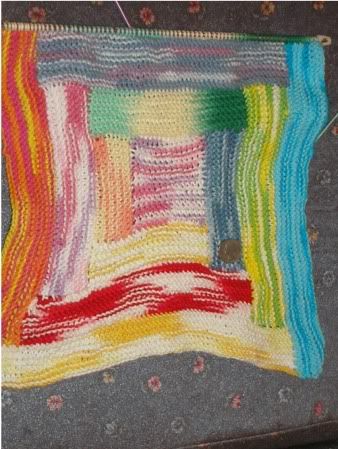 But I didn't stop there, oh no..must keep going.
July 5th I think was the day I took this one.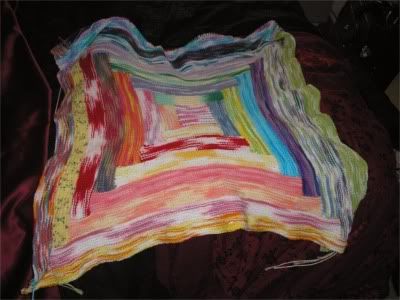 This was taken a week or so ago. I can't really remember when. I think it have moved on and added another strip on the both warm sides and am now on the cool side again. I've purchased 3 sets of needles to make this thing and am in need of yet one more set. The first was a pair of 14inch straights, those were too short almost as soon as I bought them. Then a friend tells me of circs, but I shudder at the idea. Well, the need for longer work space called and I answered with a pair of 30 inch circs. Those were too short in about 5 days. Now I'm up to a pair of 36 and I just keep scrunching up the work behind me. I