I'm very excited now. I read on one of my communities on LiveJournal that Michael's is having a Sugar 'n' Creme sale this coming week! :D I am thinking of taking a trip 45 miles away just to get to one and buy some with money I don't have and gas I can't afford. Eh, whatever. I'm never going to let (I say never but mean until it goes up to the price of like $5 a gallon) gas prices stop me from doing what I want to do. That is just silly cause then I'll be unhappy because the gas is high AND I can't do anything fun. So I'll be headed over to Albany sometime next week.
I am also thinking of starting a baby sized log cabin shortly. My fave professor just had her second son and I think that a log cabin would just be the coolest thing ever. Plus I'm graduating in December and she's gonna be gone with her hubbs somewhere and I'll be gone and all...so I just want to do something nice for her since she's been my lifeline throughout this whole college thing. It will HAVE to be boy colors. I'm thinking of doing it well...duh..blue and green. But I'm going to look into the cones of color and see if there aren't any blues or green on that. Probably not. But IF there are, I might do something more like courthouse steps instead of a true log cabin.
I am pushing for a new sewing machine when school starts and I get my refund checks back. Then I could try sewing a log cabin in fabric. I have TONS of scrap fabric, mainly because that's all I buy, and could make a state-wide blanket from the odds n' ends I currently have. My fabric bin/drawer is also runnething over, so I need to clean out some of the things to make room for future purchases. :D You can never have TOO much fabric...or yarn...or anything craft wise.
Here are a few things I've stitched up over the last year-ish.
This is a school bag and I carry notebooks and such truck with it. Very sturdy little thing.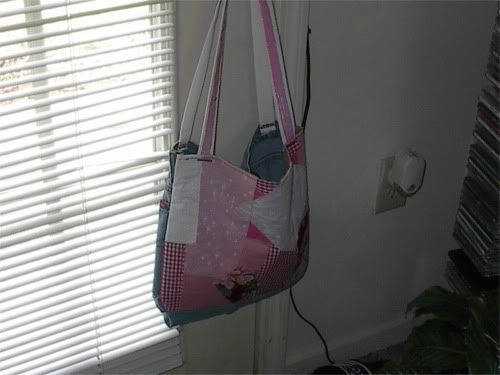 And this is a bag made from a pair of men's pants and this cute, pleated, punk rock skirt I dug out of a friend's scrap bag (originally from Goodwill). This was the first major project I started and it took me about a year to finish the stupid thing. Now it holds all my log cabin stuff. :D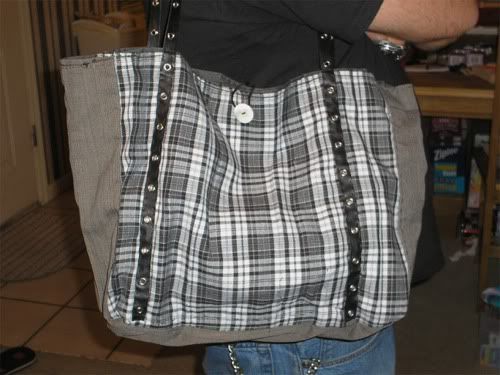 This is going to be another blanket when I get back into the seed stitch mood. I have only 2 more strips to knit and then the putting together of it will be next. It will be like 6 strips long, with the colors running horizontally and being stacked one on top of the other-ish. It's not going to be but like maybe 12inches wider than lap width. I needed a smaller blanket to cover up with on the couch.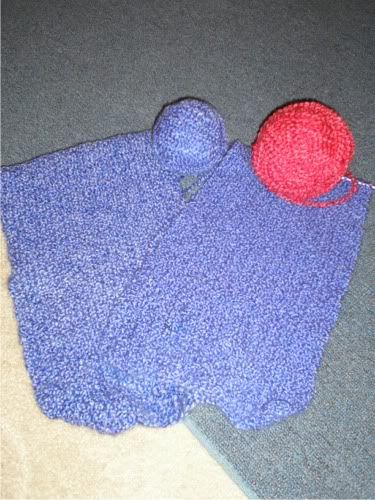 Finally, this is a little clutch purse I sewed up a few days ago. I have had the pieces cut and just kind of hanging out for a while now. It was my first attempt at using a pattern and it also took me about a year (or maybe more) to get finished. I just start things and then loose my enthusiasm.
Plus a view of the inside