Finished my July pair, nothing special, just k3p1 rib on the leg. My brain needed a rest and an easy project while we worked on getting real jobs and moving. :D Here they are, a prayer knit into every stitch.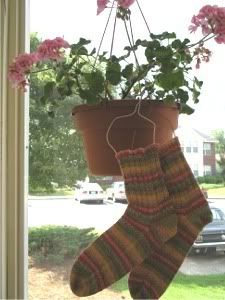 Specs: 2 socks magic loop, US 1s Knitpicks classic needles
Online Supersocke in ??? can't find the ballband since the move, got the yarn from a SP on LiveJournal, thanks Amanda!
Started in June and finished on July 12
Forgive the bad pic, had to tweak the colors to let you see the socks at all. It rains all the time here, or so it would seem.
And, a secrit project for a seekrit pal. This pal doesn't know I have a blog, so I'm safe. Plus, by the time she sees it, she'll know my name. :D
A Stash Bunny!
Bunny outside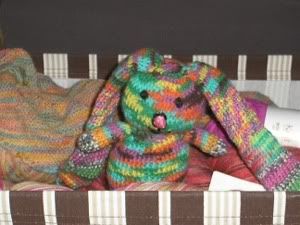 Bunny in the stash basket
Le bunny has cedar bits inside him. So you can sit him in your stash and he'll keep the buggies away. I made him with leftover sock yarn bits and I dum dum dummm, crocheted him. :D I've gone over to the dark side, and it's not so dark. I loved making the little guy. I could see my crocheting more stuffies in the future, not so much for the knitting of them. Crochet is forgiving, you can just make it up as you go, sorta. And I just kinda made this guy up. I based him off a lion brand pattern, best bunny, but I don't follow written directions worth a crap. I looked at the pic and made it look like that, even if I didn't so much follow what the words said.
And now I'm on to another pair of socks. This time on 2s. Whoa these babies fly. I'm using the Broadripple pattern from Knitty and some yarn my SP9 sp sent me, thanks TeAntae! I know you meant it to be a scarf, I just couldn't bring myself to not make socks out of it, it's my frist Claudia Handpaints. I lOOOOve this yarn. It's sooo smooshie.