It's live, and it could be coming to a browser near you (assuming you follow this link)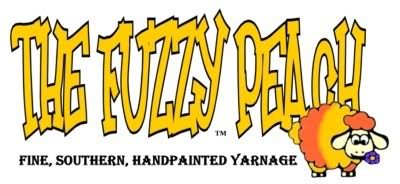 that's right as advertised on Beneath the Fiber Moon by none other than lovely
Jessica (episode 27)
.
It's been a few weeks now since the Fuzzy Peach hit the street and we've moved some yarn. However, we, the faithful owners, are relocating to a bigger city (eek!) and we need to get this stuff out of our hands and into yours. (read: I don't want to move this yarn :P) So I'm posting the little mini guy below to show you folks out there in blogland what we have left to get your paws on.
For our customers to see our next update tenatively scheduled for August, we need to sell these skeins so that we can buy more yarn with the profits, duh. For our next endeavor we'll be using a new base yarn that will be more substantial and hold up to Soviet missle attacks and nuclear holocaust (it has nylon). Since that's a bit nicer and more hardy, we have to shell out more for the stuff. Also, when we get this sold, we may be bringing you some cool promotions in the next update. Perhaps some discounts, perhaps some freebies. Freebies are goooood. :D
And to soothe your soul about the purchase, just think, I'm going to be a teacher (high school) so every dollar you spend here supports education! I realize that it probably isn't in your community, but still, it supports education (rationalize). And for the handfull that may be holding out for that "going out of business" fire sale, not gonna happen because I'll knit it up myself! :P
Remember if you love us, blog us!