So I have been telling ya'll I've been knitting, but finally proof! I give you my June socks for SAM3 knit with Lorna's Laces Shep. Sock in mountain creek (a birthday gift from a friend). I did my usual toe up with magic cast on, magic loop, two socks at a time. These don't fit so well, but it could be my feet are funky in the summer. I know my hands swell in the heat, my feet may have the same reaction. I hope they fit during the winter weeks.
I sorta used
this
pattern, but I didn't like the diamonds after the first one I knit. And I was all nutty about the ktb marching up the front and I think it kinda looks like a skinny snake now, starting with the diamond head at the toe and going up to the cuff.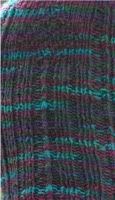 I don't like them soo much, but I hated knitting them. I love this yarn, but it's dark. Don't even think of k2tog or p2tog with this stuff, that willow green will make your eyes bleed trying to see in all but the brightest lights. I just worked with this yarn too long.
Remember that I started with the Pomatomus socks and couldn't turn the heel in this yarn, I'm just not that bright. Not right this second anyway, but I have evidence that I got that far before I ripppped right on out. This pic is terrible, the sun wasn't being nice, neither was the sock yarn/pattern/brain.
See, I can knit the stupid pattern, but I can't do the heel flap or pick up the gusset. I want these to be turned toe up by someone smarter than I am, I think
Domesticat
may have, but I'm not sure if that's Pom. or monkeys. Either way, I want to knit them. Yeah, it's Pomatomus.
In other news, the marathon of baby hat knits ended and I have 8 finished. I sent them out last weekish?? and I hope Sheri gets them before she goes on vacation. Here they are in all their glory, I did do individuals with Julian, but I'm too tired and covered in newsprint from packing for out move to Columbus that I just don't have it in me to edit and load those bad boys. Maybe for a future post.
Off to pack more boxes and perhaps fall asleep on a pile of newspapers.