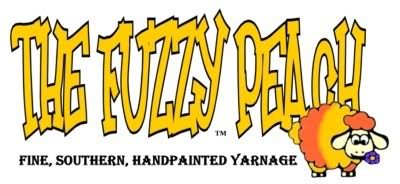 It's October 1st and fall is upon us, even here in Georgia the temperatures are beginning to dip slightly, a welcome respite believe us. Fall also means the creation of warm handcrafted goodies is gearing up and, most importantly,
The Fuzzy Peach has UPDATED!
Yeah some believed it would never happen again, like the dinosaurs :P Yet here we are. Getting quality yarn blanks took a little longer than anticipated, so our September update got pushed. The good news is we have enough to supply a couple of updates so our next one should be on schedule barring any catastrophic events. For any of you who may have been champing at the bit to get some more yarn-y goodness or checking our shop with religious fervor we sincerely apologize for the lag. To make it up to you good people, for the first
24 hours
(10-1 7pm - 10-2 7pm EST Daylight Savings)
ALL
our yarns will be a
dollar off
. Thats right, consider it more money in your wallet, a treat from the Wendy's dollar menu, or "free" shipping on that second skein. However you slice it, you're saving a little money. You could call this offer semi-exclusive since, unfortunately for us, we won't be indexed into Etsy's search pages for a "few days," so a direct visit to our store is the only way to take advantage of this discount. And as always we encourage you to tell your friends and link us in your journal/blog.
Also, we like to have fun so for all the game-of-chance fans out there, you can now be part of the
Peachy Lottery
. How to play- just purchase a skein from the shop and check the ballband when you recieve your order. If you find a multicolored froggy stamp on the reverse, then its 1/2 off any one skein with your next order, yeah thats right, you heard it from the horse's mouth,
1/2 OFF
. Go on and play, we haven't crunched the numbers but are pretty confident your odds of winning this lotto are far greater than hitting the Powerball, after all 11 skeins verses 54 numbers, give or take :) Anyway enough about us, follow Elberta (our banner sheep) or click on your favorite yarn to browse our new selection (you know you wanna :)